News
Welcome to the home of Medical Device Purchase.&nbsp We hope that you have a pleasant and enjoyable visit at our new online store.&nbsp Our online shopping cart is user-friendly, PayPal verified, encrypted with the latest security features, and will accept any major credit card.&nbsp Please feel free to contact us if you have any questions or concerns regarding our site or any back order items.
&nbsp
Best Sellers
$30.00

$80.00

$80.00

$225.00
About
Medical Device Purchase is the premier online marketplace for precision crafted ophthalmic microsurgical instruments and top-notch laryngoscopes at competitive prices and a whole lot more.
Our commitment is to provide you with the best value in the industry by offering you personalized customer service as well as a simple and convenient shopping experience.
As the cost of health care continues to rise, MDP is compassionate in understanding the importance of keeping your expenses down by lowering supply chain and administrative costs. &nbsp
&nbsp &nbsp &nbsp &nbsp &nbsp
Product Maintenance
Our instruments are designed to last, but to realize peak performance it is important to follow the most current guidelines for cleaning and sterilization. Click below to view our Instrument Care Tips.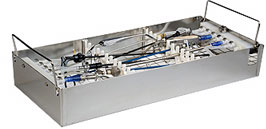 view now